EXOR JsunRocker
Whatup Bitches!!!! Name is Jason. I'm 36 and have lived in Northern California for the last 20+ years just outside of the Sacramento area. I work in IT for Blue Shield of California. Obviously i like Forza which is why i joined the Club. And you already know that i know Jack about racing in general and even less Sh*t about the cars in the game. So let me share some other things with you.
Brief history is i was an Air Force brat. My father worked for NSA and he retired in the late 80's out here in Sacramento, due to my mothers health issues. I"ve always been an artist/geek. (Musician, D&D, video Games, Drawing, etc.) I was shy in school, with braces and glasses, and somewhere along the line, i got somehow "cool" by my 20's. In 2000, my Dad passed away from Lung Cancer and in 2005 my Mother passed away from Renal failure. The reason i state this is just to understand where i come from. I'm an only child and i had to take care of both of my parents while they died, while working a job and trying to keep the family house and bills. It was hard. Damn hard. After they passed, I talked to my wife (then G/F) about what i wanted in life…..I wanted no regrets. What does that mean? I do what i want. As long as i pay my bills and take care of life's responsibilities i can play video games, go to concerts, get drunk with my friends, play D&D, stay out all night for midnight movie showings or just take off two days from work and go to the coast. I like to laugh, even if no one else get's the damn joke. I help my friends at the mearest hint of need and i won't hesitate to tell someone to F*ck off if i feel they are being demeaning, intolerant or just down right mean. Life is too short and i'm gonna do mine.
Let me walk you through a pictorial of my last few years so you can not only laugh at me, but actually maybe get a feel for who I am.
Band:
My really only claim to fame is that I'm in a band called Brand X Savior, which through years of practice, have developed a new style called P00nCore. It's like Metal Lite. Half the Calories. Although nothing worthy on a National level but for a few stints on no-name compilation albums of obscurity, we enjoy notoriety in the Northern California area having been played on multiple local radio stations, twice nominated for best metal band at the Sacramento music awards, opened for multiple national acts and at this current stage basically being "that band that just won't die and go away".
Shameless plug: ---> http://myspace.com/brandxsavior
Promo shots:
Yes, I'm so damn metal that i had to hold up the walls so they wouldn't crumble in fear of our awsomeness during this photo shoot.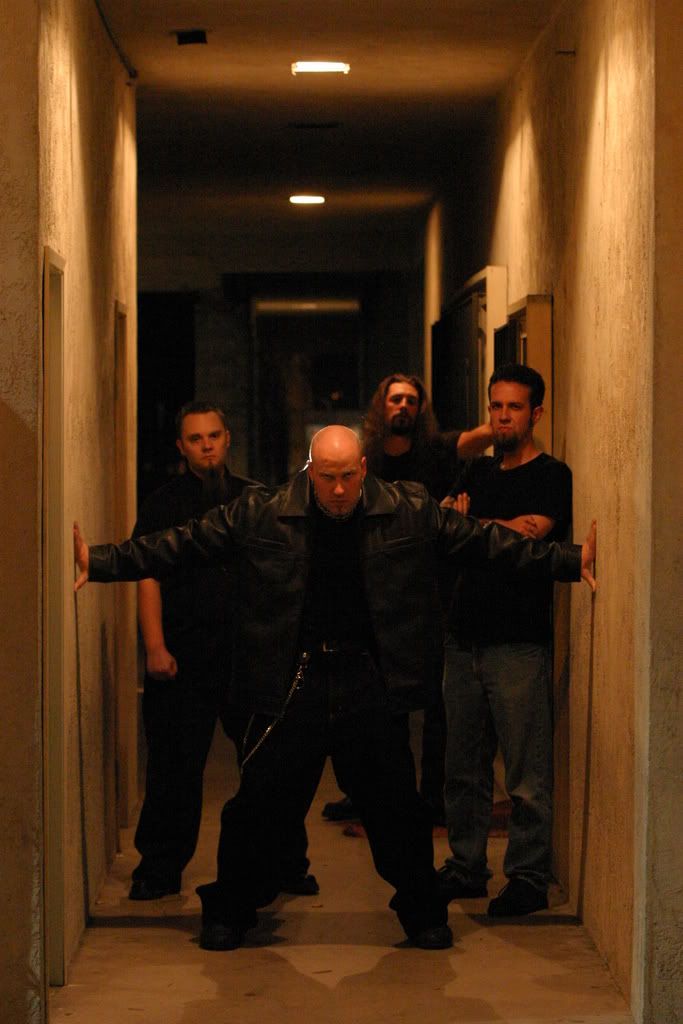 Here is a random picture that literally was taken in the parkinglot of the club we were playing at. 45 seconds to get on stage and someone asked us to pose. Ended up on the CD jacket.

Throw'n the horns out at the Sacrmento Music awards. Our guitartist had technical difficulties so we ended up playing the "intro" to the song for almost 4 minutes. The crowd was start'n to get ancy, so i walked to the stage, gave my toughest look and threw the horns. Whole crowd dug it, jumped up and started cheering. I had a big screen behind me, so everytime i turned around there was 50ft Jason staring back at me. Awsome Night.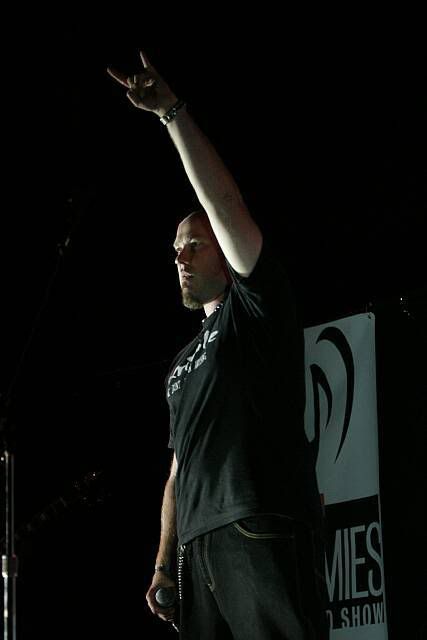 Yes, i still own this awsome purple transformers jersey. The chicks dig it.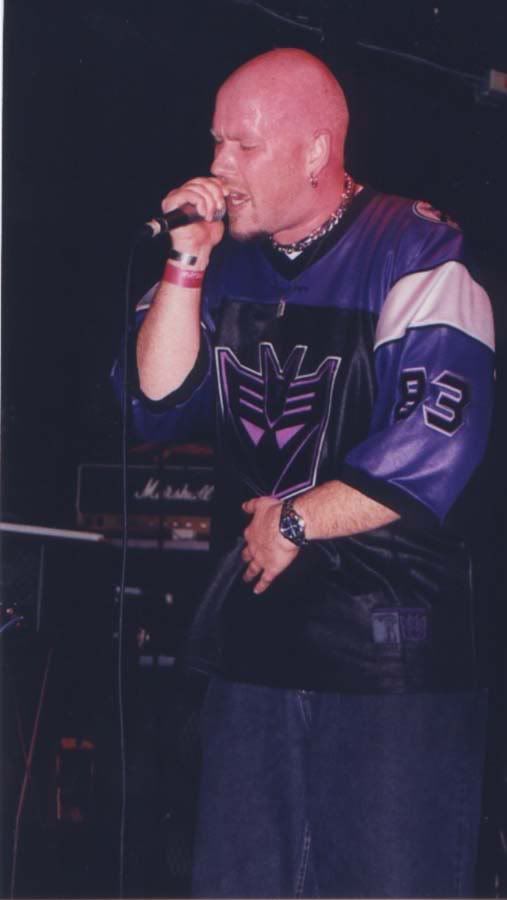 One of my fave shots…don't ask me why, just conveys being on stage for me.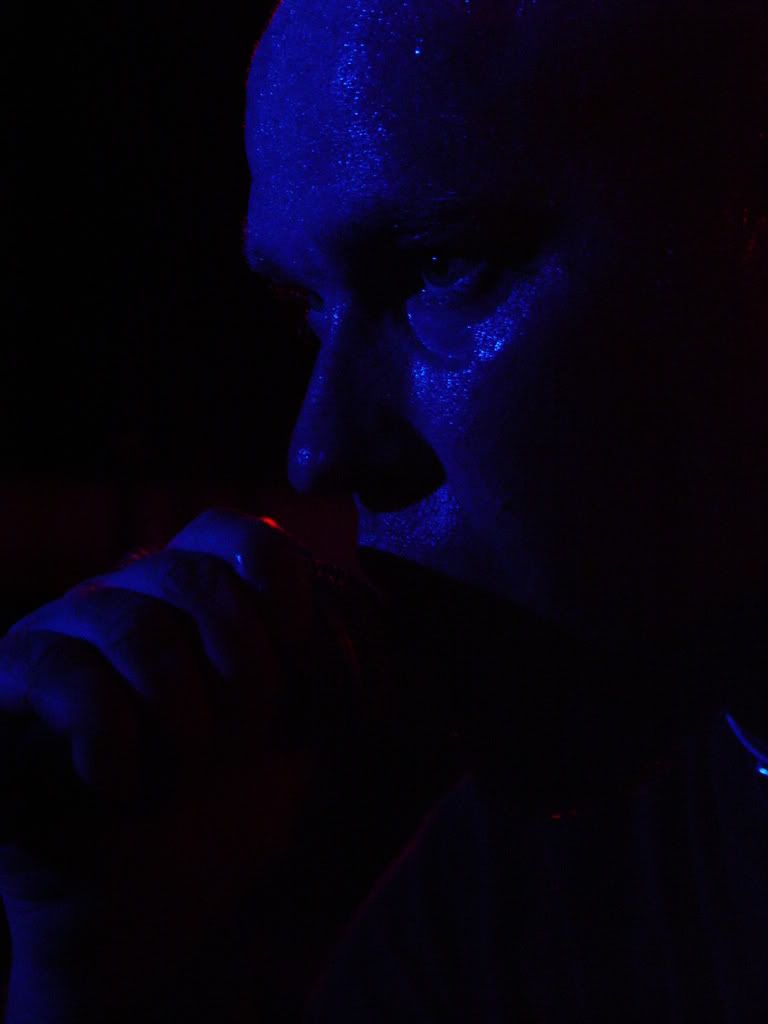 Wifie:
In 2003 after a terrible break with an ex-girlfriend over a year previous, that was still giving me nightmares, A good friend of mine invited me to the beach to spend a day with her family. My band had been in studio for 2 weeks straight (working day job 8 hours a day and then going into studio everynight for another 8 hours) and i was fried, dead tired and done…. so much that my birthday was coming up and i didn't even know what i was doing. Went to the beach, her family welcomed me with open arms, even going out of there way to get me a birthday cake, get me drunk and treat me as one of there own after knowing me for 10 min. This good friend, who i had gotten to know in the music scene as reviewer for local music, eventually found it in her heart to date me, and marry me. I love her like no other. She's beautiful, has a masters in Criminology, loves sweats and ponytails, encouraged me to buy a Mustang while later working with her brother to restore a 68 mustang for herself, cooks like the spanish godess she is and basically let's me play games or F*ckoff as much as i want.
Here we are, chill'n in the backyard.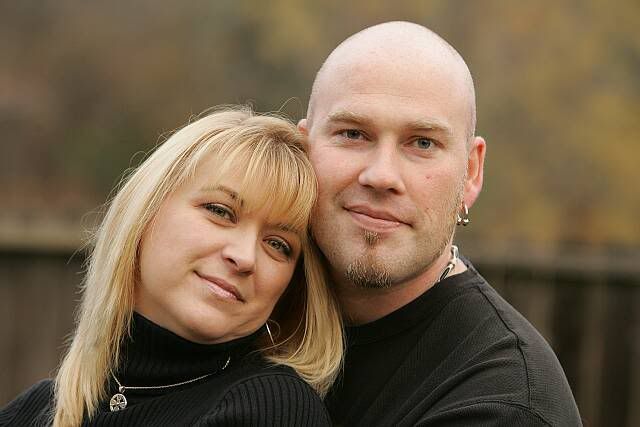 This was captured at the Sacramento Music Awards. She just had presented the award for "best female vocalist" and i was about to go onstage for our set.

Here she is with her Legend Lime 06 V6 mustang.

Here we are in the Limo ride on the way to the wedding chapel in Las Vegas where we were to be married by Elvis. We have actually framed this in our house as our official wedding picture.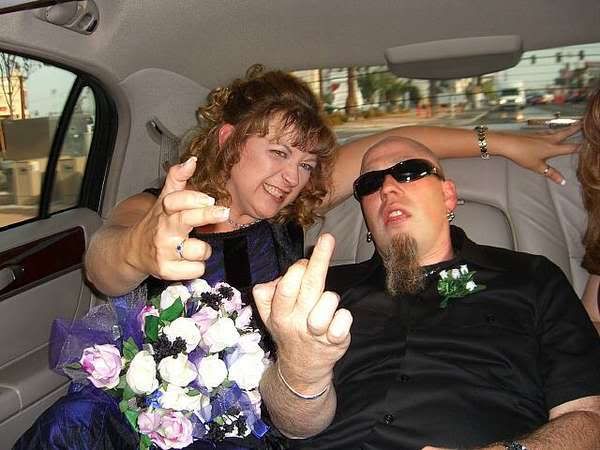 CARS
Ok, here is the warning. Yes, i drive a V6 Mustang. Yes, i knew that when i bought it. Yes, I actually made the purchase intentionally. I'll sum it up by a famous quote: "If I wanted your opinion, i would give it to you".
I love my car. Never had anything remotely compared to a sports car as i was always a poor black share cropper and had handme downs. Well, not the poor black share cropper part, but you get the jist. When my pickup of 13 years bailed on me, i decided that i wanted a fun Daily Driver. With my wifes cries of "go do it, you deserve it" shortly after my Mom passed away, i set out on a trail to find something affordable and that fit my commute requirements, but that could still say "Hi, I'm Jason and i want you to know that i drive a car that no-one else does". Needless to say, the results are below. Along with my car, i have posted my wifes 06 V6 mustang as well (she loved mine so much after driving in it, we got her one) and also the 68 Mustang that she has wanted since she had to sell her original as a teenager. I suprised her on her 38th birthday with it.
Feel the power of one tire spinning at an incredible 210HP of sheer insane power.

If your gonna customize, you have to have skulls on your car. It's mad tight Yo!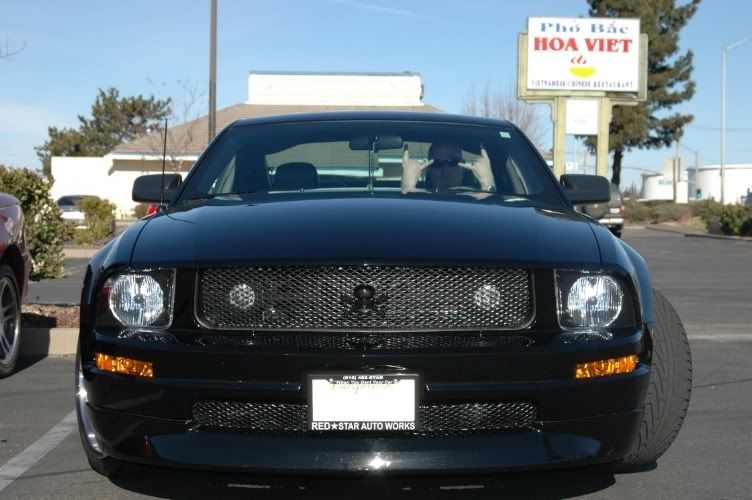 My wifes Legend Lime which is the envy of all our friends who are women.

My wifes pride and joy. She has worked to rebuild the engine, replace the suspension and overall put all her blood, sweat and tears into this car, with the aid of her brother and a friend working every weekend for the last year.

Kidz:
Not much to tell here except for none of them are human, although i love these guys the same.
From Left to Right: Jax, Dos, Patch, Marhaus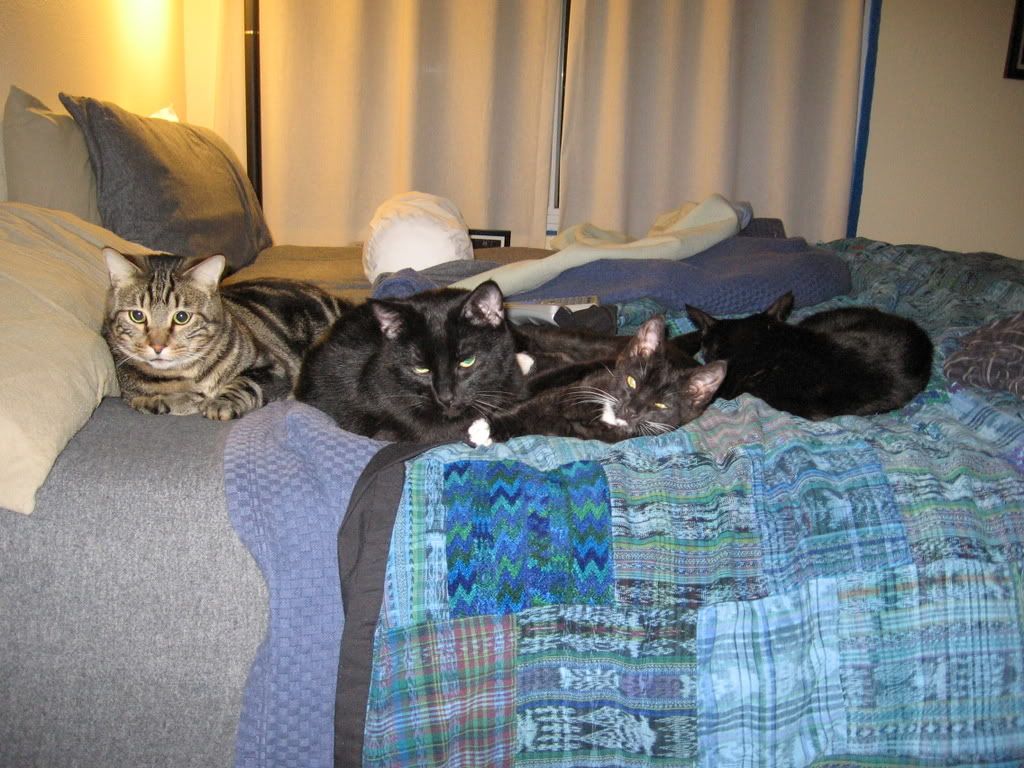 Dogs. Well, i don't really like dogs. But these were my Mom's babies after i grew up, so i inherited them. Sometimes they annoy me, but they are one of the last few daily reminders of my parents i have, so i'm thankful to have them.
Maggie:

Cujo:

Spain:
My wife is a first generation Spainard, born in America. After we were married, her father invited us for 2 weeks to come out to Spain and visit. (He stays out there 3 months out of the year, as his work in California is Seasonal). It was a great trip where i grew to appreciate wine, spanish food (except things with octopus) and all the wonderful Russian Prostitutes that would come out at night that affectionately became known as "Mi' Mujeres". I also learned to appreciate the fact that in america we have more than 3 cylinders on our cars.
Here is the link to all the actual photos from spain, but i'll include a few highlights below: http://s97.photobucket.com/albums/l219/jsunrock/Spain%202007/
Aquaducts:
So i was told we were travelling to a city just to see Aquaducts one day. I was like wtf? So there is a stone wall that carries water. big deal. Needless to say, i was blown away by the sheer magnitude of the entire structure, besides the fact that it was Roman Architecture that is 2000+ Years old and still standing. Incredible. On a side note, i found out that one of the bar/inn's down in the market to the right was a famous place the Ernest Hemmingway used to stay. If you go to the full album, you can see the market i'm talking about.

Castles:
Yep, they actually have alot of Castles in Spain. The particular one we stayed in goes back to the 14th century. The thing was like a mile wide and 3-4 miles long. There was a functioning town inside. I mean apt's, restaurants, clubs, hospital, church… there are Spaniards who actually grow up leading a modern lifestyle, living in a Castle. Blew me away.

Cathedrals:
Well, considering the whole damn country is catholic, you literally hit one of these every 10 feet. Although i'm not Catholic, still amazed me.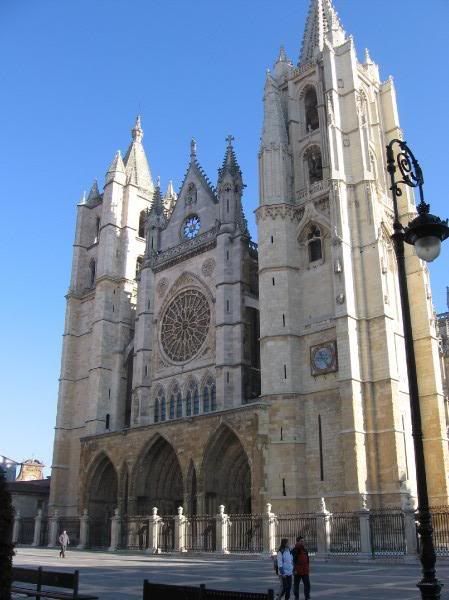 Funny:
We would walk down from the house to a resort hotel to have coffee and breakfast on the ocean during the mornings. I saw this sign and took a picture. Apparently if you are staying at the Hotel, you can't really do anything in regards to the ocean.

I passed this restaraunt and laughed twice. Once for the notion that in Spain, did Spainards go to get "American" like we go get "Chinese"? The second was noticing the graffitti someone has sprayed before the word "american". Cracked me up.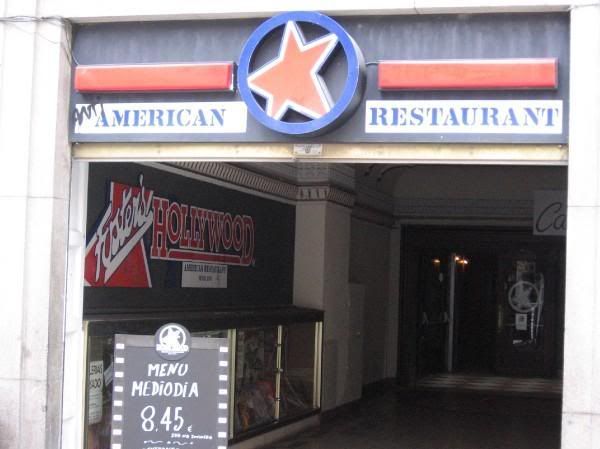 Forza Setup:
Last but not least, someone asked me to post my Forza setup, so here it is. Notice the great shape my racing seat is in…yeah, you can thank the new kitten for that one.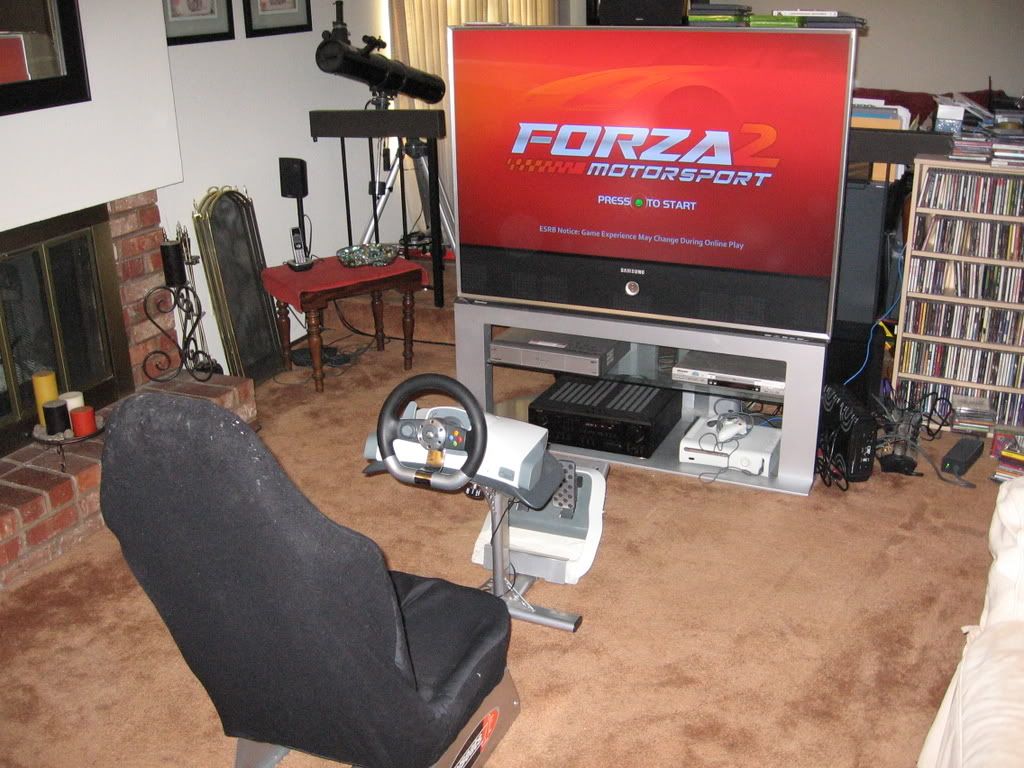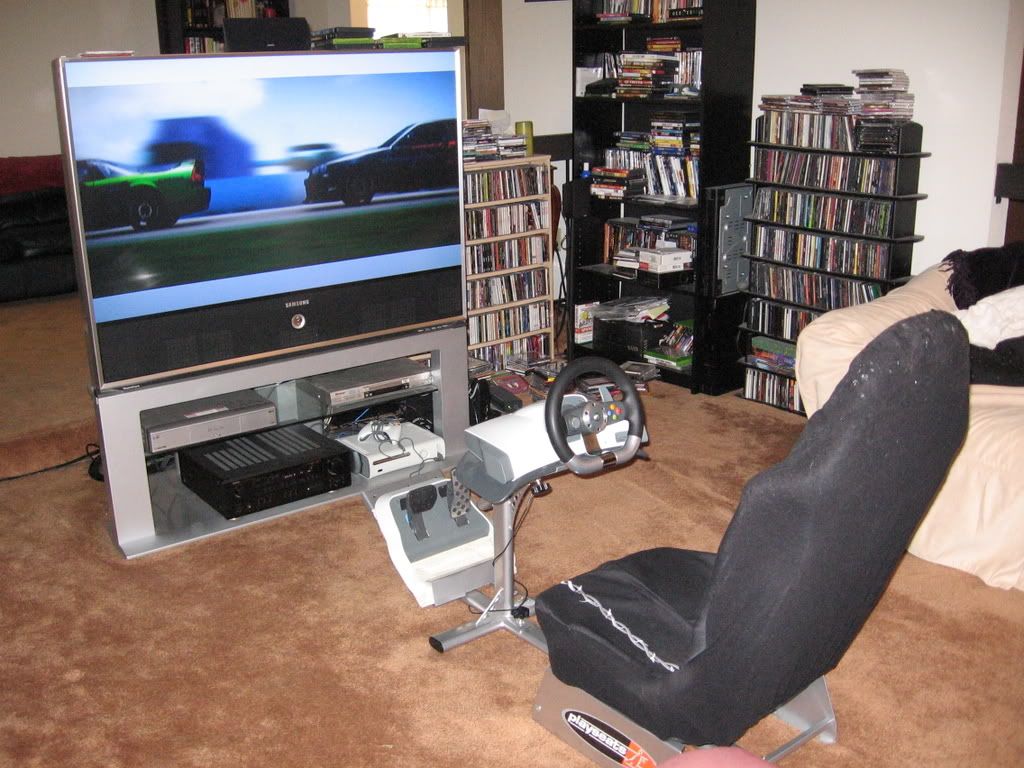 Well, that's about it. I might update this, I might not. But i realized that i've grown to know and respect alot of the members of Exodus Racing and figured that i would share some of my life. Hope you enjoyed it, if you didn't, well, nothing i can do about poor taste and limited comprehension skills.
Peace!
page revision: 11, last edited: 17 Sep 2008 07:08