EXOR IMADreamer
Seeing Rocker's excellent write up on his life which really opened a door into who he is inspired me to get a little more indepth about myself. I like knowing where someone is coming from rather then just the basics and here at Exodus I feel we are a pretty close group really considering we all live everywhere in the country. So me more indepth.
I was born during one of the warmer Februaries on record in 1981. My mother often told me how she wore shorts home from the hospital, pretty warm for the Midwest indeed. Growing up in a small Illinois town my life was pretty typical, I played baseball in the summers, went to school where you knew everyone, and as soon as I was old enough to do anything I helped out on my families farm. My father, uncles, and grandfather all farmed together in the Mississippi River bottoms on what is some of the best ground in the world. It's something I've always been proud of as I'm the fifth generation to work that land and now with my cousins having families of their own a sixth generation will soon work the same land that my ancestors did.
Farming is something that never gets out of you really. Even when I was in college and after that when I lived away from my hometown I would take time to come back during harvest and help. In a way I credit the farm with starting my horsepower addiction because of all that big machinery as well as growing up hearing my father and uncles talking about their muscle cars. I would hear stories about my dad's AAR Cuda, my uncles 442, or my other uncles impala with a 454 in it. You can see where I get it. Sadly as they got older those cars were trading in for boring family machines. Well all but one, my fathers Cuda was never actually traded, however it's life was cut short by an over zealous technician at the dealership. When the car was taking in for a repair the tech was going on a test drive and totaled it. I always felt the car deserved better then that.
Back to me. As I said growing up in school I was a typical kid, I played sports (baseball, football, track) and was decent. I also was in the band, music was a huge part of my life as my mother was in the church choir and both my parents listened to music at home more then they ever watched TV. So it was only natural I would play music too. First it was the piano then the trumpet, then bass guitar, guitar, drums, bagpipes etc etc. Music led me to my first love. Her name was Nikoletta (Nic), she was a trumpet player like myself and we sat beside each other in band class. I had known her my whole life but around 6th grade I developed a pretty big crush on her. Our friendship grew and we became best friends, we were inseparable until our junior year of high school when we went our separate ways. I won't lie, every girl since then was compared to her and none of them stacked up.
Around the same time I became interested in the opposite sex the car bug bit me as well. It started really with my cousin who was into drag racing, well DB drag racing actually. He had a massive stereo and love to go to competitions, I loved to go with him and he taught me everything he knew about stereos. It wouldn't be until late in high school and early in college I would be bit with the horsepower bug. By the time I was a freshman in college you could find me racing regularly. It consumed me up until the point where I watched my best friend die in an accident. Those things change you a bit. He crashed while racing on a back road and ended up in a ditch. Everyone bailed and fled as quickly as possible except for myself and one other person. The other person ran for help (no cell phones in those days) and I stayed and tried to tend to my friend. There was nothing I could do though. I swore off cars at that point, I didn't even want to drive let alone race however as I got older the itch came back and I got back into racing. More legally then not. I managed to be offered a chance to buy into a race team and then drive for that team when the driver was called to fight in the Iraq war. It was an honor to fill his shoes and a lot of fun.
I should back track a bit. I graduated college with a degree in Atmospheric Sciences and was going to set the weather world on fire. Alas it was not meant to be though as jobs were tough to come by and the one I did manage to land lasted only a short time before the company went out of business.
It was back home for me, broke, no job, and my pride swallowed, back to my little sleepy town in Illinois with no clue what I was going to do with life. It seemed that I would just be back working on the farm forever, which is ok, but for some reason I felt I was better then that. I know different now. About this time I joined a band, we grew it from nothing to something that was pretty popular, to a band that toured the Midwest playing and making a reasonable living at it. However after a couple years I decided that lifestyle was not for me. My father was able to land me a job working on a Senate campaign having some connections in the political world seeing as he had taken some time away from the farm himself to make a name for himself in the political world. He was a rising star when health troubles cut his bid for congress short and he was forced to retire from politics. I loved it politics though, I loved the strategy, the thrill of victory, and the agony of defeat, it was a game I wanted to play. I started making a name for myself as well.
One day while working in my office a beautiful young lady walked in, I had recognized her as Nic, the former love of my life. I'd be lying if I said I didn't often wonder what happened to her. She too was down on her luck and had moved back home, maybe it was fate, maybe it was luck but we hit it off like we had when we were much younger. Being older and a little wiser we quickly fell in love putting our past differences far behind us. Life was good, maybe perfect, maybe two perfect. She landed herself a very well paying job and was on the fast track up the corporate ladder. I was doing well myself and quickly moved up the ladder as well.
In the summer of 2008 I started my second job which is doing testing for the municipal watershed in my home town. It's a vast departure from my political path but I love the job and it has great opportunity as well. I feel like rather then shutting the door on politics I've just opened the window on this career. It's nice to have options.
However not all fairy tales have happy endings. Nic was offered a job far far away from our home and it is honestly something she can't refuse. So where does this leave me? Single, homeless (sorta), and quite confused. For the second time in my life, the love of my life is moving on, I have to do the same. Also for the second time in my life I am moving back home, with my parents, at age 27. YIKES!!!
So that's atleast where I've come from, a lot of my future is up in the air. After the 2008 election all the offices, staff, and such will be reevaluated and as is the way with the political world careers can end very abruptly. However the job with the water plant is going well, it's just a lot of hard work, and studying ahead to move up and on. I look forward to it really. My drag racing career is coming to a close, I still love it, but my time is limited, and it's time for someone who can devote the time needed to be great to have a shot. The time is coming for me to step aside. It's bitter sweet really but I'm sure there are more motorsports in my not so distant future.  Stay tuned to see what my crazy life brings.
Random pics from my life:

back when I played in a band.


That day was nuts, we played in Memphis the night before, had to be in St. Louis at 6am to do a TV morning show, then at 10am we did a radio show at the station the pic was taken, then we played under the arch that evening. Needless to say sleep was at a premium so I took a nap at the radio station. lol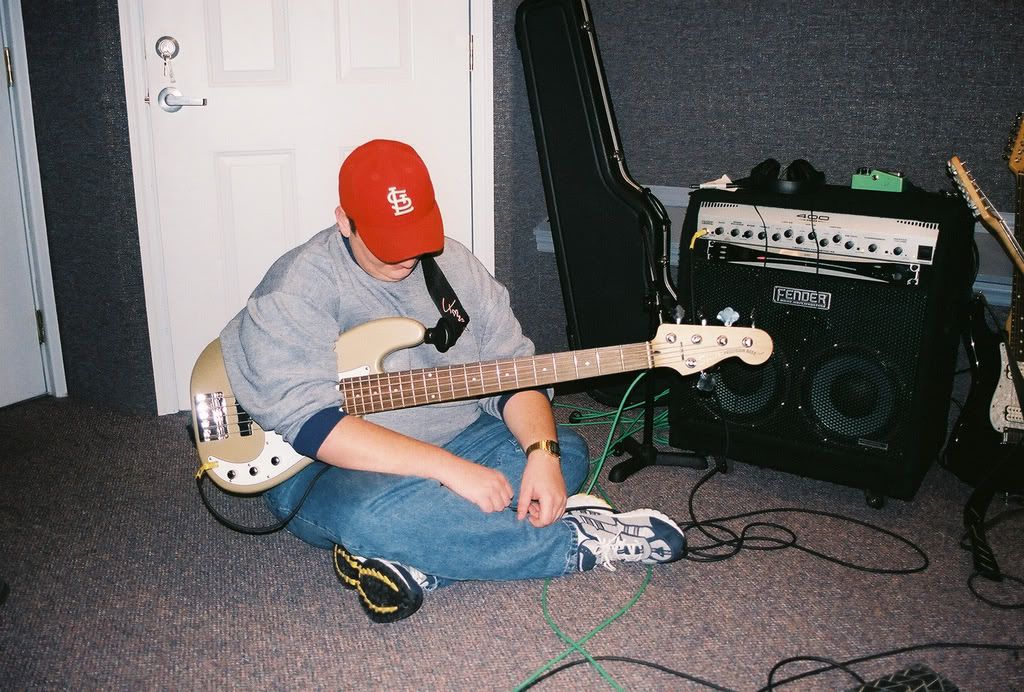 My cousin and I at a Cards game acting a fool.

My friend Vince at the World Series a few years back. I know it's not me but I love the Cardinals and HATE the Cubs so it's fitting in a post about me.

page revision: 6, last edited: 02 Sep 2008 04:55