EXOR Carnifex
So, being inspired by Jsun's much more intimate profile, I decided to delve a little deeper into the chest of information about my life and put a few more cards on the table. I warn you, this is LONG. Only read it if you really care to find out more about it.
About Me
Where to start? Well, my name is Luis. I was born in Puerto Rico, but have lived here in Philadelphia, PA since I was about a year old. I speak pretty fluent spanish. However, having learned English earlier in life, some words still elude me since its not my "first" language. Im the oldest of three, at 25, with 2 younger sisters, 24 and 22. I have a wife, daughter and dog (5 year old yorkie).
Im 5'8" and about 280lbs. I used to wrestle in high school and those two years kinda formed my body into what it would look like. Huge, broad shoulders. Large arms and legs. Broad back. Only problem now is the "padding" that I put in after the issue with the Marines (see below). Once I lose all that weight, Ill be DEAD SEXEH! :P Im not a roly-poly-oly guy, but I definately need to lose weight.
Personal Life
I'm happily married to my childhood crush, Andrea. Together, we have a 2 year old daughter, Gabrielle.
Andy and I go back a long time, back to when we were in first grade. We lived around the corner from eachother until we moved in together at 18 and 19. She was a friend of my sisters' and we loved to hate eachother. Kicking, smacking, pulling hair… the whole nine yards. It was one of those things where we crushed on eachother and showed it through childhood bickering. Back then, I wouldnt have ever admitted that I liked her, but her liking me was common knowledge.
Fast forward a few years. My family and her family find some drama through extended family-through-marriage (see if you can keep up… my dad's uncle's wife's sister's husband is Andy's mom's cousin) and it stupidly cascades down and affects Andy and my sisters' friendships. So we lose touch.
Fast forward another few years. Andy has a dream that a door-to-door salesman came to her house selling God-knows-what. Suddenly, she realizes her bedroom is on fire upstairs. She grabs the dog by her collar and starts to lead him outside and wakes up. Is pretty shaken up about it. One morning sometime later (dont remember exactly how long it was), she wakes up earlier than usual and, instead of staying in bed like she usually did, she went downstairs. Doorbell rings. Its a door-to-door salesman. She slammed the door in his face.
The dog comes running downstairs scared shitless. She looks upstairs and sees flames coming out of her bedroom door. Her parents and her, with the dog in hand, leave the house because the fire grew insanely fast. They lost almost everything. Andy lost a teddy bear that she cherished more than anything. They moved away while the fire department gutted her house and the insurance company re-built it. The fire had started under her bed. Minutes after she went downstairs. The fire department said they only way they could have known the fire started earlier was if she hadnt gone downstairs and they heard her being burned.
So, fast forward another amount of time. They move back into the neighborhood and we meet in passing on the sidewalk. Its one of those "Oh my God how are you doing?" type of conversations. We finished and parted ways and I was left with an "oh shit" feeling in my stomach. The "oh shit" that tells you "thats the one Im gonna marry". lol
So, during the next few years, we become the best of friends. She watches me date every girl Im with, wishing it was her. I date the girls I get with, with none of them ever living up to my expectations of being everything Andy is. It was only during the summer of 2002 that I let myself realize that the only one that could ever be Andy was Andy. I was terrfiied of screwing up our friendship and chose not to try anything, after spilling my feelings to her.
She flips out and, on June 23rd, 2002, she gives me the ultimatum that changed my life. "Give us a chance or leave me alone for good. I can't be your friend. I love you too much". So, on June 24th, 2002, we went on our first date. We shared our first kiss. On December 24th, 2002, while she was very upset about different things that were going on, I presented her with her christmas present early. A new teddy bear. She burst into tears hugging it. It was then that I got down on my knee and asked her to marry me with her grandmother's ring, the ring she wanted to get married with. She said yes.
I moved in with her parents in August 2002 (while she and her mom went to PR… her dad has Parkinsons and they wanted me to be with him). In 2004, we moved out into our own apartment. After having lost our first pregnancy about 2 1/2 months in, on July 17th, 2007, she gave birth to our daughter Gabrielle. On June 21st, 2008, 3 days before our 6 year anniversary, we were wed. Here we are today. Happy as clams. :)
Professional Life
Fresh out of high school, Went to work with my dad at an engine remanufacturing plant. Thats where I learned how motors work and what they're made up. VERY interesting job. I had plans to go into the military. Join the marines. SEMPER FI! … or not. I had issue after issue come up that prevented me from shipping to boot camp. Simple, stupid stuff that shouldn't have been an issue, but was. Example, me being 2 lbs overweight cause I had dinner the night before and getting a super strict admissions clerk. Despite my ability to physically out-perform some of the applicants, they denied my entry based on those 2 lbs.
After the third failed attempt, I took His advice and stopped trying. I went to work for Sears Credit as a collections agent and hated it. Worst job of my life. I left that job and went to work at McD's when my best friends mom came to me with a job offer for her place of employment. I started at a title insurance company mid June 2003. I was eventually laid off due to the economic crisis/crunch/melthdown/whatever in January 2009. I rode the unemployment bus until March 23rd, when my cousin offered me a job at his collection agency. So Im working again and doing well. :D
I've started the process of becoming a Philadelphia Police Officer, but its a long process and Im finding it difficult to lose the weight I need to lose to get in. More laziness than inability. I went to the first test and failed miserably. I got a gym membership (3-years too, so itll help build my credit) and was going regularly, but my car died. So havent been able to go in a while.
Cars
My first car… A '94 chevy corsica. It was my mom's and she gave it to me when she got her new car ('00 suzuki esteem wagon). My dad ran it without oil (didn't know one of the gaskets was leaking… hes a mechanic by trade and didn't notice the engine knocking……..) and the engine siezed. Been living on our own for a few years now and, since her pregnancy with Gabi, we decided that she would stay home with the baby so we wouldn't have to leave her with strangers. So 1 income = public transportation for Carnifex. ;) Then, my mom bought a van and decided that I needed her wagon, so she gave it to me. The engine wound up dying like… 3-4 weeks later because her ex boyfriend did a hack job on her radiator hose. I have a new engine sitting in the back of the car waiting for my dad and I to put her in. Hopefully within the next week Ill have a running car again. :D
Pictures
L-R: Me, Andy, Gabrielle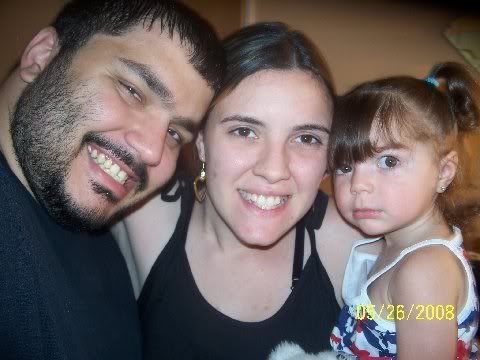 Andy and Gabi just after getting out of the pool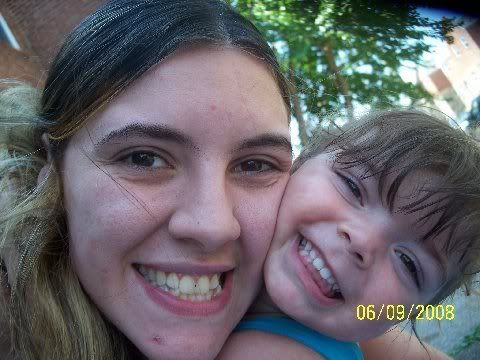 So yeah, thats about it. I haven't traveled anywhere super cool. Been to Puerto Rico a few times. LOVE it there. I've not done anything amazing with my life yet, but once I get into the academy and become a PPO, Ill definately be able to make a difference. Other than that, there isnt much else to know that would still allow you to be alive after me telling you. :P
Hope you enjoyed the read. I hope it gives you an idea of who I am, besides the new guy that takes out brake markers and doesn't know the tracks. ;)
Also, my AIM is Benevolent Chaos. If you ever see me on, feel free to hit me up. :D
page revision: 6, last edited: 02 Apr 2009 17:43